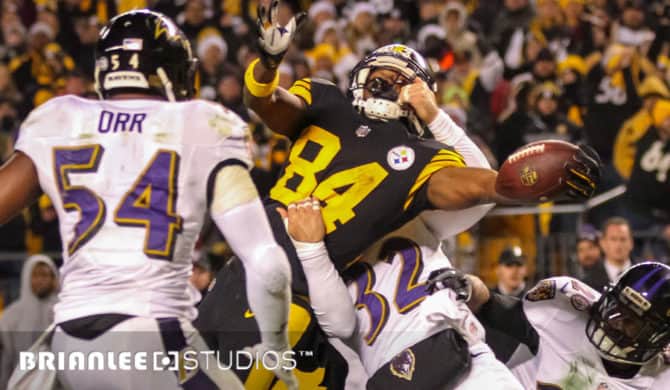 2016 December 25th, Christmas Day. The Baltimore Ravens late in the 4th quarter scored a touchdown to take the lead. The Steelers get the ball back with just barely a minute of clock left to work with. They need a touchdown to win, to clinch the division, to secure a playoff birth and to eliminate the Ravens playoffs hopes. Everything was riding on this last and final drive.
On this Christmas Day super star wide receiver Antonio Brown just might have made the play that will summarize his entire career. Pittsburgh moves the ball down down the field to the 4 yard line thanks in part to a pass interference call on Baltimore. It's 2nd and goal with just 14 seconds left on the clock. The Steelers have maybe just two plays left to score, but fortunately for them they only needed one. Steelers quarterback Ben Roethlisberger lines up in the shotgun formation. He takes the snap, drops back and hits a crossing Antonio Brown. Brown catching the ball just outside the goal line is immediately draped by three Baltimore defensive backs. Through brute strength and will power Antonio brown fights and pushes his way closer and closer to the goal line. Still with three players holding onto him and fighting to drive him away from scoring Brown does something that will forever go down in history. The Immaculate Extension.
At the last possible second while being pushed back Brown leans towards the end zone, stretching his body out as far as he can go. With his last bit of strength he extends his arm with football in hand as far as he possibly could. The tip of the football breaks the goal line plane and suddenly…The Steelers take the lead! The Steeler defense holds off Baltimore and wins the game by a score of 31-27.
In all of my years as a sports photographer this was one of the most intense and exciting games I have ever had the opportunity to shoot. In a game that featured the leagues best rivalry, on Christmas Day, with so much on the line for both teams the atmosphere inside Heinz Field was nothing short of electric.
I was there for the Immaculate Extension. Not only was I there in person for this instant iconic play, but I was also one of the very few lucky photographers who actually captured THE shot! In a moment that only took a second to happen I was able to capture the full extension of Antonio Brown's big play. This is by far the best sports photo I shot all year and possibly ever.
Below is a selection of some of my favorite shots that I took from that game. Please enjoy!